As spring comes to a close and the last of the snowbirds leave us locals to endure an inescapably hot, humid, Floridian summer, you're probably not too inclined to head outside to beat the heat. Unless, of course, you're off to the beach or to participate in some refreshing water sports.
What if I told you that there's another outdoor activity that's not on the water, but still cools you off? What's more, it's basically free, always enjoyable, and has two wheels? If you guessed "biking," you'd be correct. Biking's a great, relatively easy way to get some exercise, and to beat the heat as a cool breeze blows in your face while you perhaps appreciate some scenic coastal views. This summer in Pinellas County, grab a bicycle (and a helmet), and pedal your way to these best bike trails in St. Petersburg, Clearwater, and the rest of Pinellas County!
Ah, the Pinellas Trail. This is the signature bike trail in the 727, stretching around 40 miles from Tarpon Springs to St. Petersburg. Often shaded by tree canopies, the trail passes through and offers views of beaches, neighborhoods, cities, and towns. While you're at it, use the trail to connect to other trails in the area.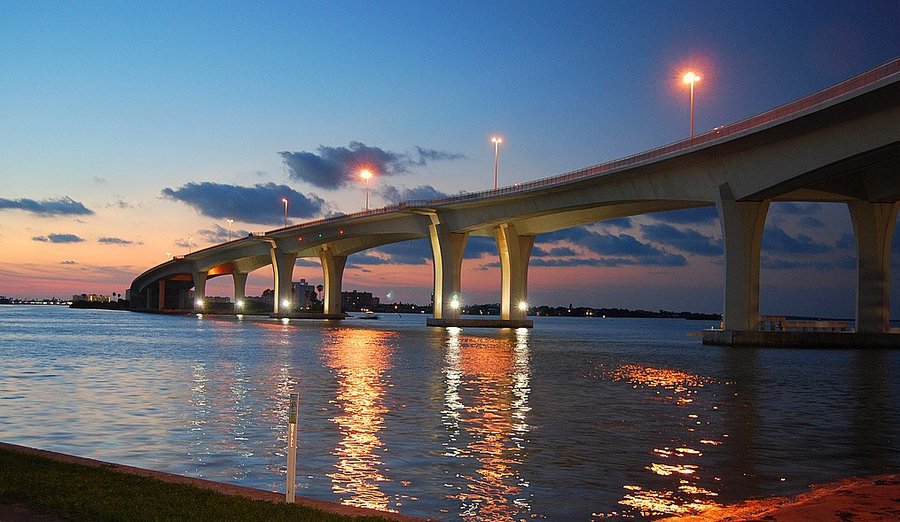 The Clearwater Memorial Causeway is a jewel of a causeway, going from downtown Clearwater to Clearwater Beach. It's a very scenic choice for a leisurely bike ride from the culture and entertainment of Downtown Clearwater to the jaw-dropping beachy beauty of the world-renowned Clearwater Beach. It is 2.6 miles long, and offers cyclists truly majestic views of the water.
The North Bay Trail is 6.5 miles long through the heart of St. Petersburg, running from Demen's Landing Park to Rio Vista Park. The paved trail provides lovely views of Tampa Bay, beaches, palm trees, and marinas. The trail passes by various St. Petersburg parks, such as Vinoy Park, North Shore Park, and Coffee Pot Bayou Park.
The Ream Wilson Clearwater Trail, an off-road, east-west trail, stretches from the Long Center Sports Complex in Clearwater to Safety Harbor. If you ever find yourself tiring of the beachy views on other trails, then bike on this trail for some variety. This trail has wildflowers, birds, ponds, fishing, and even disc golf courses in a couple of parks along the trail. Even better, there's plenty of shade.
This 12-mile trail begins at Maximo Park and Boat Ramp in St. Petersburg and ends where it runs into the Pinellas Trail. While Maximo Park features a disc golf course, and the trail itself is ripe for bird-watching, this trail's main attraction is the fact that it passes through Clam Bayou, a breathtaking estuary good for kayaking and canoeing. You'll ride through the Bayou on bridges and trailways.
This paved, 6.8 mile-trail gives off certain "Old Florida" vibes for the nostalgist in you (assuming you're old enough to remember Old Florida). Even if you're not, you'll still appreciate the seclusion of this off-road trail, next to a sparsely-traveled road. As you bike through the seclusion and shade of a trail lined with palm trees, you'll be very much away from traffic and suburban or urban sprawl. 
Fort Desoto in general is one of those underrated, overlooked, hidden Floridian gems. Not anymore…tell your friends about Fort Desoto, and about the other best bike trails in St Petersburg, Clearwater, and all of Pinellas County. Biking allows you to cool off in nature's air conditioner (wind), all while enjoying the best scenery that nature has to offer. It's the best of both worlds…the summery views without the summer heat. 
Be sure to read 727area.com all summer long for more fun, cheap things to do to beat the summer heat!
Comments
Related Posts in St Petersburg & Clearwater Recreation
Take Flight With This Top Social Distancing Approved Activity
Best Instagram Backdrops in St. Pete
Our Favorite Non-Profit Organizations in St. Pete!
The Coolest and Most Fun Gaming Bars in St. Petersburg and Clearwater!
Fly High with Flying Boat Brewing Company Inspired by St. Pete History and Community
St. Pete Tattoo Shops That Leave a Mark and Leave You Happy